Timeline of Shelby, Ohio History
Prior to 1800: Various Native Americans called the Ohio country their home. They include the Shawnee, the Delaware, the Mohican, and the Wyandot tribes.
April 1818: Stephen & Sarah Marvin and her mother, Mrs. Deborah Moyer, arrived from Connecticut.  Other early settlers were Mr. & Mrs. Eli Wilson, Mr. & Mrs. Henry Whitney, and Revolutionary War veteran James Gamble and his son, John.
1826: Gamble's Mill Post Office was established. It was named after the horse-powered grist mill around which the fledgling community grew.
June 26, 1834: James Gamble had laid out "the Town of Shelby." He named it after Gen. Isaac Shelby, a hero of the Revolutionary War and War of 1812 and first governor of Kentucky. Lot No. 1 was located at the southwest corner of West Main and South Gamble Streets.
1846: The first train arrived in Shelby on the Sandusky, Mansfield & Newark Railroad (now the Ashland Railway). Shelby Junction is believed to be the site of the first crossing of railroads west of the Allegheny Mountains.
1853: Shelby was incorporated as a village with William Hiles as the first mayor.
1890: The seamless tube industry in the United States was born in Shelby with the establishment of "the Tuby."
1890s: The 1890s witnessed the creation of Shelby's electric, water, and wastewater systems.
July 4, 1898: The community witnessed its greatest disaster: the collapse of the Main Street Bridge. Seven died and 400 were injured after a wedding performed on the structure.
1921: The village became a city and adopted a charter.
Learn more about Shelby's rich history along Black Fork River in this video sponsored by the Shelby Parks Board.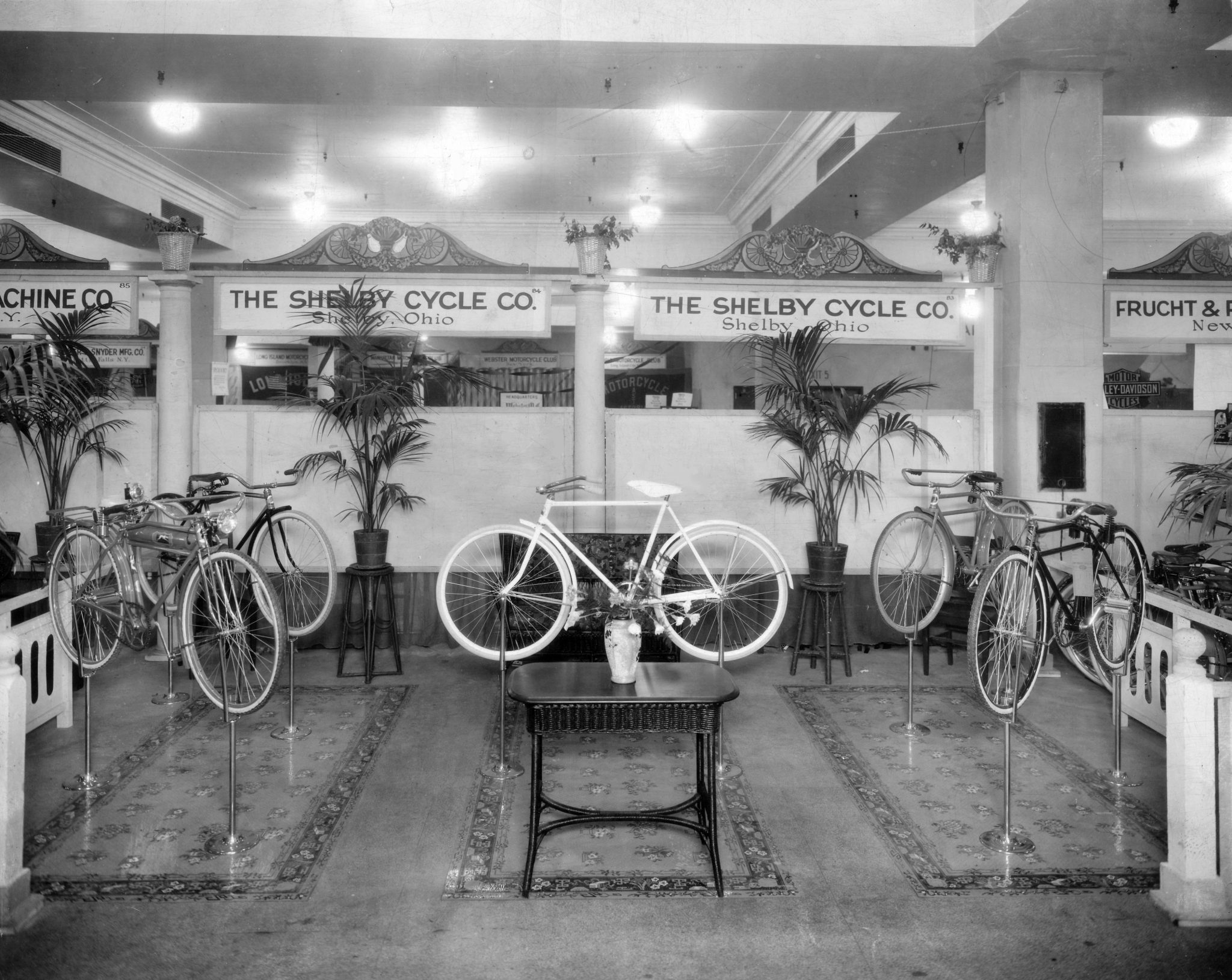 How did Shelby become famous for the bicycle?
Shelby's history is synonymous with the seamless steel tube and bicycles. In 1891, the town began producing seamless steel tubing. The Shelby Cycle Manufacturing Company opened in 1895 to produce 100,000 Ideal bicycles in its first year. In 1935, the Shelby Cycle Company produced more than 200,000 bicycles per year and sold them in major department stores. Shirley Temple and other actors rode Shelby bicycles in movies. Restored Ideal and Shelby bicycles are still prized possessions and have been auctioned for as much as $7,000 per bike! Even though Shelby bicycles are no longer built, today ArcelorMittal employs 650 people to continue the seamless and welded steel tubing operations in Shelby.
National Register of Historic Places
Most Pure Heart of Mary Church (Romanesque architecture)
Shelby Center Historic District (Italianate, Queen Anne and Neo-Classical architecture)
Marvin Memorial Library (Greek Revival architecture)
Other former business notables
Famous Shelbians
William W. Skiles (1849-1904) US House of Representatives
Charles Follis (1879-1910) First African-American professional football player
Dawn Powell (1896-1965) noted author
Larry Siegfried (1939-2010) professional basketball player
Robert W. Houk (died 2011) Public Printer of the United States
Shelby's Historical Organizations